The Early Days- Building Zaidi with @OmaThrive

Welcome to The Early Days: a series checking in with kickass Founders sharing honest lessons, tips & tricks and a sneak peek into building from the ground up, in public.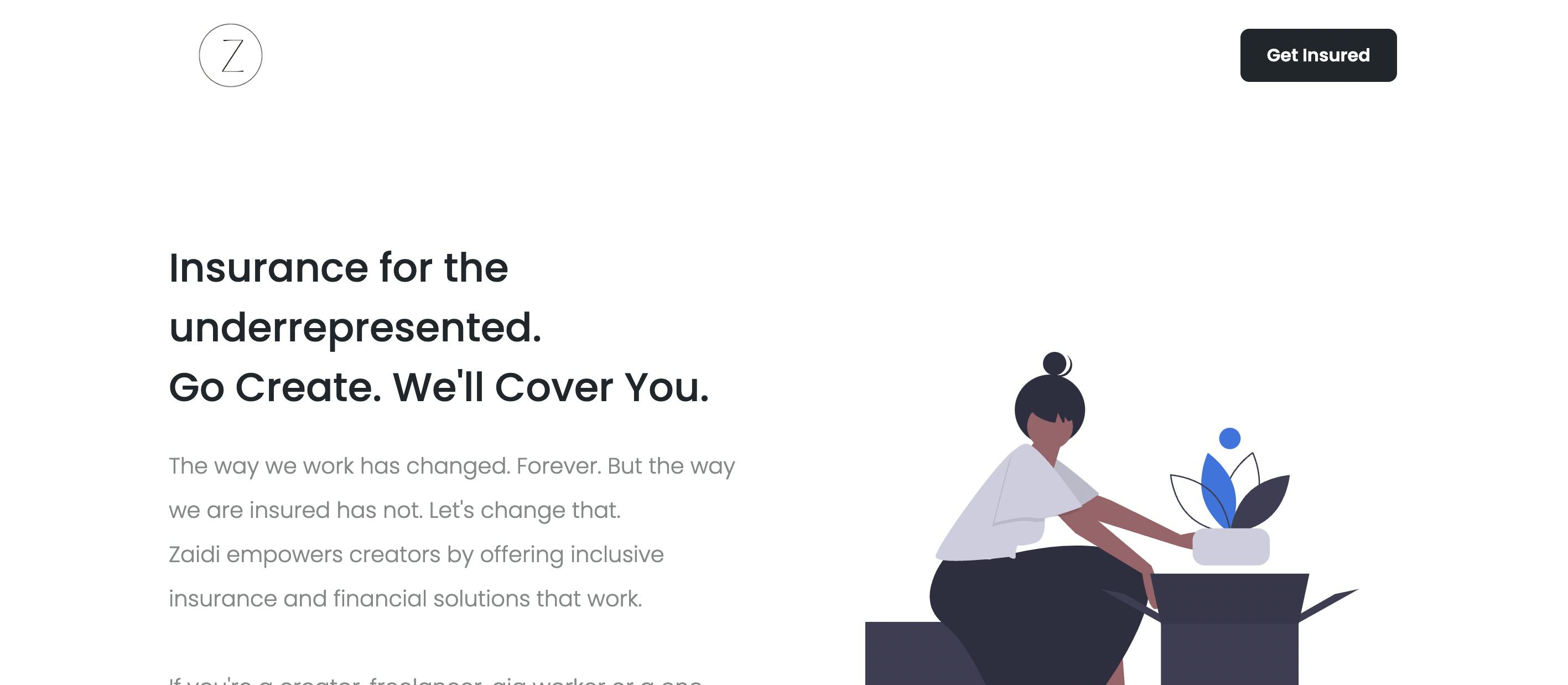 Every company has an origin story. This is the story of Zaidi. Told by its founder; @OmaThrive. Let's start from the beginning.
---
Where were you 5 years ago and how have you changed?

Before my undergraduate, I was already freelancing as a graphics designer, photographer, and video editor and sometimes, producing my own content. I couldn't wait to finish school so I could start doing my own thing full-time. It was not long before I graduated.
In 2014, I founded a media-tech startup - 'Outbox Media'. The idea was to connect African startup founders to African experts who are entrepreneurs. Think a Cameo + Masterclass combination. It didn't fly as we hoped so we pivoted to a content channel on YouTube - "Outbox TV", telling African startup stories since we already had content where we profile startups and their businesses. It seems like a better idea except for the fact that monetization was largely dependent on ads. And it's not scalable. I wanted something that could scale. We struggled for 3 years until a digital TV - Kwese TV, acquired all our content. It was a relief for me and the team of 5. Finally, we had some money that could wipe out some sweat. The joy didn't last long.
After Kwese TV acquired our content, I decided to solve the monetization pain I had while operating Outbox. So, I invested all the money into building "Thrive Media". The idea was simple - connect independent video producers to content acquirers to maximize profits.
Thrive Media was interesting because we did some fun things - operated the Nollywood Hub to be a data place for anything Nollywood, and hosted a quarterly fireside chat where we invited media experts to talk about the business of media and then the content marketplace. We had a good run for almost one year, after distributing 6 contents, before we realized how fragmented the market was. The sales period took about 4 to 6 months. For us to operate optimally, we needed a deep pocket. And apart from the money from Outbox, I've never raised any funding. I've always been a supporter of bootstrapping. Now, I know better. One morning, after weeks of deliberation and weighing my options, I called the team and told them we are shutting down in the next three months. That gave them enough time to get another job.
After we shut down, I took a long break to think about my life. It was a painful period. Many thanks to all the people I reached out to that stood by me and gave me a chance - Tomi Davies and Oyewale Oyewole played pivotal roles. Tomi Davies brought me on board his company as a product manager for a new product he was working on.
What were some key factors to this change?

It was during my time at Supa Strikas with Tomi Davies that I found out why Outbox and Thrive Media didn't scale. There was no product-market fit. So, instead of going off to start another company, I did something different - I started taking classes on product management, consuming everything I could lay my hands on.
I left Supa Strikas 5 months after, called one of my friends, a start-up founder, - Henry Mascot, Co-founder of Curacel - a YC-backed insurtech startup, and he gave me a shot to join his company as an early team where I functioned as the QA manager, product manager and led marketing.
After about 2 years, I left Curacel again for bigger challenges - lead product at Plaqad and found my company - Zaidi.
I would argue that becoming a product manager and understanding how product works, changed everything for me.
And by the way, I'm no longer a proponent of bootstrapping. I believe that for a product to reach the people that need it, you need some early backing. And it saves you from the constant fear of dying.
We can argue that it was not so rosy but we got some wins - was top 15 of the Diamond Bank BET5 program (not sure if the program still runs) and the $5000 grant from Tony Elumelu Foundation (TEF) was what gave us some good run rates.
What was your inspiration for building an insurance platform for creators?

Our idea is simple: Zaidi is to drive insurance inclusion in the creators' economy.
That means we have our work cut out for us - "ensure more creators have access to insurance products and are rightly insured".
Our vision and mission are to improve access to economic prosperity by driving insurance inclusion and adoption in the creators' economy in emerging markets by improving access to flexible insurance (health, gadget and IP) and financial services.
When did you know it was the time to act on this idea?

After building, operating and marketing at Curacel for about two years, I noticed a gap in the inclusion and adoption drive of insurance in Africa - the creators including the self-employed were not considered when policies were being created. They are considered big risks or were not thought of at all.
After I left Curacel, I started freelancing and quickly realized that every time that I panicked when I had the thought of going back to a 9 to 5, it was because of the fear of the unknown. Especially paying out-of-pocket for health care bills - good healthcare is quite expensive, or replacing or repairing my work tools - laptop or phone when damaged or stolen. I spent some time thinking through the problem and how to solve it for myself, and while speaking to other people, I found out it was a common fear they had, even the ones that have full-time jobs.
So, in a way, I just wanted to solve the problem for myself.

The startup fire was kindled again. I spent about 5 months in the web3 space and was a contributor at OdysseyDAO where I managed its student admission. So, it felt natural to solve this issue using the web3 models - this can solve monetization for creators and give us quick time to market at a good scale.
We had a rethink when everything crypto was on fire. The whole noise of NFT has died down, web3 companies are shutting down while crypto prices are dwindling per day. So, we decided to start with the very basic - 'provide an easy way for creators to protect the two most important things that they have - health and their work tools'; that was how Zaidi was born.
Many startups are already solving for the front end of the creators' economy - from accepting payment to course monetization and collaboration but few are addressing the back end. For example, a creator works with a team - who takes care of them. They are part of the back end. This is what we are solving for the long term - to take care of the backend for creators and their team, so the creators can focus on their businesses".
The creators, freelancers, small business owners and the variable workforce will be the most important workers in a decade. It's time we start changing our insurance and risk models to reflect that. The listed stats below is a pointer that the creators' market is ripe to be explored:
But why insurance? According to a 2019 report, the penetration of insurance in Africa still pales at <3%, an estimated $68.15 billion total value of the continent's insurance market. Zaidi is hard at work to change that by driving its inclusion and adoption for the underserved markets.
More statistics are pointing us in the right direction that the market has the number and is ripe to be explored. There are an estimated 39.65 million micro and small businesses in Nigeria "employing 87.9 percent of the labour force". They provide opportunities to drive employment generation and wealth creation as well as income redistribution within societies." - source
The creative economy industries generate annual revenues of $2.25 trillion. (source)
The creative economy contributes over 6.1% to global gross domestic product (GDP), averaging between 2% and 7% of national GDPs around the world. According to the International Monetary Fund (IMF), the entertainment industry now accounts for 1.45% of Nigeria's GDP. (Source)
With more than 50 million independent content creators, curators, and community builders fuelling this new trend, this generation of micro-entrepreneurs is currently valued at $20 billion with estimations that it could grow to a $104.2 billion market in 2022 — with $800 million in venture capital invested in these creator ventures year over year.
What are some learnings from moving from idea to MVP?

You know - "once bitten, twice shy" - 😂.
I told myself no more launching a product unless I've raised some funding - grants, angel, debt or equity so that I can hire the right talents and go to market in a more successful way. Also, I know realistically that people rarely back ideas. Except I'm a Peter Thiel, it may never happen. So, I decided to build.
In my quest searching for a quick-to-build tool that won't require me sourcing for a developer to write codes, I stumbled upon Kernal - a community. I registered and ignored it for a while until reality hits me like a brick on my forehead, that my fears as a creator, freelancer and self-employed are still valid and not going anywhere. I have to find a way to solve them. To hold myself accountable, I came back on Kernal and just dumped the idea - everything was scattered in my google doc and notion, and dumped them on kernal. What a relief that was.
It was on the platform or one of its newsletters, that I found out about the no-code tools I could explore. I explored them and settled for the ones that fit what I wanted. That was some music to my ears right there.
I would say Kernal helped me find clarity and always makes me feel like someone is watching me because I'm kind of building in public. This was something I wanted to try on Twitter but wasn't sure it was a good idea.
To get the product ready, I did these things:
I had a newsletter where I wrote about African tech for my personal consumption
So, I created a different page on the newsletter called Moor and a Twitter page - @TheMoorProject, and created a 12-series course for creators, from monetization to getting your first 10 super users.
I moved the content from Kernal to a fresh document, and flesh out everything.
Separated what I need for the MVP into a different doc
Created a roadmap so I don't just jump on ideas
I sketch the MVP on Figma; what the MVP should look like
Worked on an investor deck. This helps chisel the whole idea and I'm still chiselling
When I was sure, I built out a landing page. The website is ready now.
Of the creators of my newsletter, 200 joined our waitlist with 3 businesses with more than 50 staff
I found insurance partners to work with, one of them is Curacel. My former employer.
Few things I learnt along the way:
As nice as no-code tools are, you can easily find yourself in a rabbit hole. Stay focused.
Before you look for a tool, be sure of what job you need to get done. What do you want to build? Document it.
For me, I used Softr to build the web app, Airtable for my database, Google Docs for documentation, Hubspot to manage sales and marketing and learned to use Zapier for automation.
I set aside my Saturday mornings to update my progress on Kernal
If you are on Kernal, I'd encourage you to always ask questions. Even if you don't get answers, your mind will somehow find a way. For me, I was so specific - 'I want to be connected to an angel investor. None yet though 😊
But one thing is sure, as much as my time allows me, I always provide feedback when the request lands in my email.
I wouldn't say we are a success yet but I love the idea to celebrate my progress, however small it is.
We went beta live on September 101, 2022. 🚀🚀🚀
See us here - www.zaidi.com.ng and you can follow us on Twitter @Zaidi_Inc
What are your biggest challenges and how do you plan to overcome them?

It's easier to teach what you're to do in the same circumstances to others. So, I know all it takes to move from 0 to 1 user. And it's pretty difficult because it's almost like strangers won't use your product unless your friends and family are using it.
Well, to eat my own food, I was the first user. I subscribed to an insurance plan - health and gadget. I've first-hand experience with how it works.
The adoption of insurance in emerging markets like Africa is >8%. For example, in Nigeria 1 in every 200k person is insured. So, how do you sell to these people that are sceptical? First, there is a trust deficit between the people and the insurance company. That's what we tried to fix at Curacel. Then there's the sachet model where people will prefer what they can access now at a fraction of the whole cost so they can enjoy the benefits.
To get our second user, we did some footwork. Following Paul Graham's popular advice, we meet our users where they are. We understand that even though they do their work online, insurance is usually not an option until an unfortunate incident happens.
Where we got our first 10 users? We were able to convince a second user whose business has about 15 staff to use insurance as a benefit to retain talents. Somehow, it worked. He first all insured his family and then proceeded to subscribe for his team. One more thing, he just came back from the hospital where he spent more money than what an annual health family premium plan would have given him. That's our advantage.
We are nowhere close to what we have on our roadmap: 300 individual and 2 business sign-ups by the end of November. Our goal is to do 20k subscribed customers in the next 18 months. So, we're yet to scratch the surface.
If there's anything I've learned, it is that my business is really offline. If you're not a social media company, it pays to make effort to always be where your users are. The users are lazy so they need you to onboard them as a baby. Also, there's a lot of room for partnerships. Don't go it alone. If you are a one-man squad like me, then look for someone that will be a part of the company without the burden of a co-founder. For me, we're a team of 5 at the time of writing - an engineer who is my friend and could become my co-founder if we get good traction on time, an insurance expert who acts more like a consultant, and the lady that handles our social media and an intern front-end designer who acts as an operations associate.
Some of our wins so far:
2 subscribed users: an individual and a business
Zaidi got invited to pitch at the Fintech Summit, Ghana in September
Zaidi got invited to exhibit at a business fair in September
Our goal for the year:
To onboard 300 individual subscribers by end of November
To onboard 2 businesses by the end of November
Raise angel/pre-seed from family and investors
Have an advisor or mentor as a director
Close partnership with a finance partner for our cash-advance and insurance loan products
Launch our payment, insurance loan and cash-advance product

There you have it - Building an insurance company for content creators! Want to learn more? Check out the Kernal Post and reach out if you have any questions.
Do you have an idea that you're itching to share? Post here and watch your seeds grow into a forest. 🌲🌳🌲🌳
---
🌱
About Kernal
With nearly 10,000 members, 2,000 startup ideas and 200 MVPs, Kernal is an expanding community of founders, operators, and investors focused on validating and building pre-seed startup ideas. Post new ideas, browse startups with momentum, and get expert feedback to take the next steps of scaling your startup idea. This exclusive community is the most supportive place to be for builders at this stage in their journey. We welcome you to join

here.